As part of our commitment to providing businesses with opportunities to enhance their workplace and culture, the Chamber held another productive 'Emergency First Aid at Work' (EFAW) training course with the NHS' TrainEEast on 4th October at DWP / Job Centreplus.
This six-hour course is ideal for lower risk workplaces, or anyone who requires a comprehensive one-day First Aid course. This qualification is valid for three years and would need a half-day annual refresher.
Topics covered included:
Assessing a scene
Casualty assessment
Using first aid equipment
Assisting the ambulance service
Cardio Pulmonary Resuscitation
Unconsciousness
Seizures
Shock
Choking
Asthma
Heart Attacks
Wounds & bleeding
Fractures, strains & sprains
Spinal injuries
Burns & scalds
Eye injuries
Poisoning
Anaphylaxis
Diabetes
Head injuries
Stroke
Infection control
Incident reporting & record keeping
Kevin Lawrenson, Managing Director of 3PL – who took part in the course – said:
"It was a great course, very practical, and a little banter goes a long way to keep all captivated on the day and on the subject in hand. Great work, East of England Ambulance."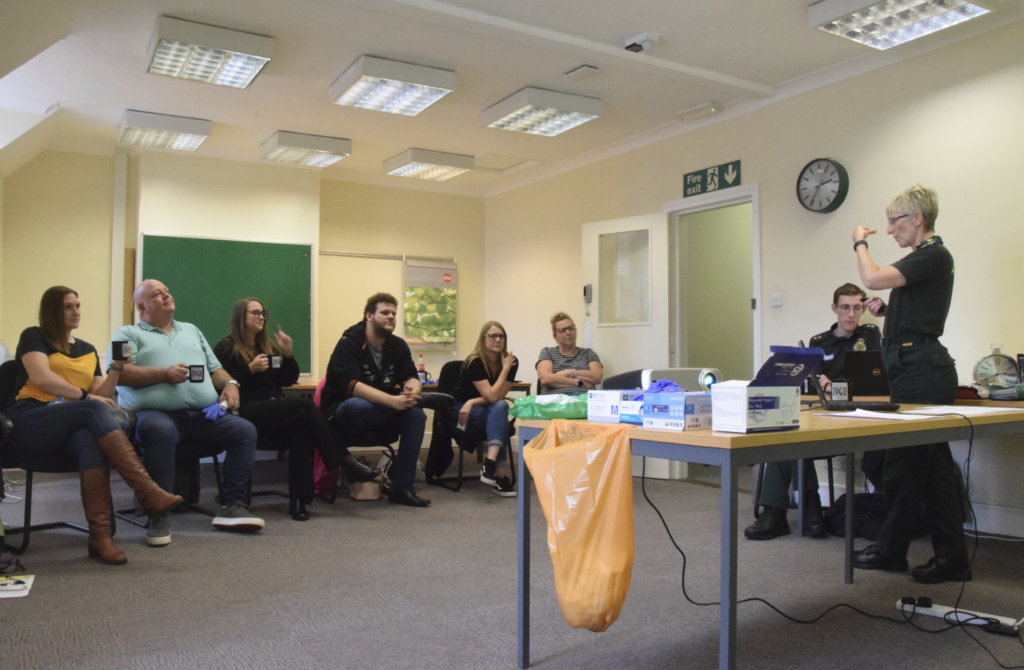 Charlotte Kerry from Zygo Ltd commented:
"I have attended several EFAW courses during my career, with other suppliers. It was very engaging. There where far more practical parts of the course, and we used equipment and training tools I haven't had the chance to on previous courses. I felt the course was very thorough and the concluding test was testament to the professionalism of the East of England Ambulance Trust clinicians.
"I'm not exaggerating when I say the quality of training far exceeds EFAW courses I've attended in previous years."
The next EFAW course will be taking place as follows:
Date: Tuesday, 27 February 2024, 9:00 am – 4:00 pm
Location:
DWP / Job Centre Plus – 29-31 Hamilton Road, Felixstowe, Suffolk IP11 7AZ
Tickets:
Members: £ 120.00
Non-members: £ 160.00
Website: Emergency First Aid at Work – Felixstowe Chamber of Commerce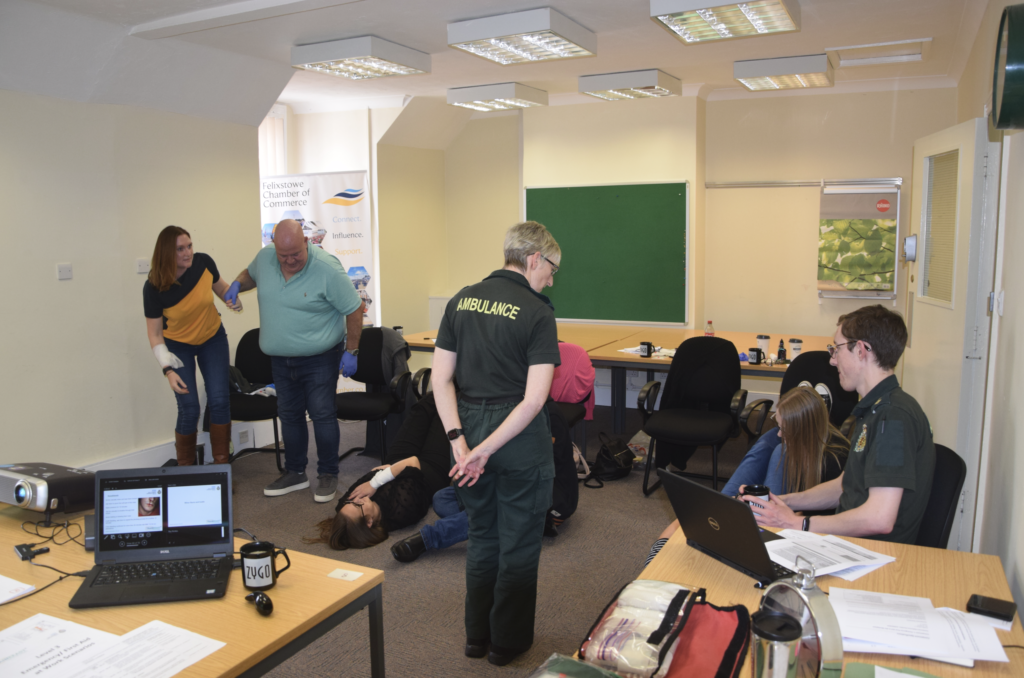 Why should UK businesses prioritise providing EFAW training to their employees?
EFAW training is a valuable investment for UK businesses, as it enhances workplace safety, reduces response times, demonstrates legal compliance, boosts employee morale, and can potentially save lives.
It's a proactive approach that contributes to a safer and more responsible working environment, with the following benefits for businesses:
Legal Requirements: Under the Health and Safety (First Aid) Regulations 1981, employers in the UK are legally obligated to provide adequate and appropriate First Aid facilities, equipment, and personnel to ensure the health and safety of their employees. EFAW training helps businesses meet these legal requirements by ensuring that there are trained individuals capable of providing immediate assistance in case of injuries or medical incidents.
Reduced Response Time: In the event of a medical emergency, the first few minutes are critical. Having trained employees on-site, who can provide immediate and appropriate First Aid, can significantly reduce response times, potentially preventing a situation from worsening and allowing for better outcomes.
Injury Prevention: EFAW training not only focusses on responding to emergencies, but also educates employees about common workplace hazards and how to prevent injuries. This knowledge can help create a safer work environment and reduce the likelihood of accidents.
Employee Well-being: Knowing that their workplace cares about their safety and wellbeing can boost employee morale and job satisfaction. When employees feel valued and protected, they are more likely to be engaged and motivated.
Customer and Public Perception: Depending on the nature of the business, customers and the public might visit the premises. Having trained staff on hand to respond to medical emergencies not only protects employees, but also visitors, customers, and contractors, which can positively influence your business' reputation.
Minimised Liability: In the unfortunate event of an accident, having properly trained employees, who can provide immediate First Aid, can demonstrate due diligence on the part of the business. This can potentially mitigate legal liabilities and financial consequences.
Cost Savings: Immediate and appropriate First Aid can prevent minor injuries from escalating into more serious health issues that require costly medical treatments or even hospitalisation. By addressing injuries promptly, businesses can potentially save on healthcare costs and insurance premiums.
Emergency Preparedness: EFAW training instills a sense of emergency preparedness among employees. They will be better equipped to remain calm and composed during high-stress situations, which can lead to more effective and organised responses.
Comprehensive Training: EFAW training covers a range of essential skills, including cardiopulmonary resuscitation (CPR), wound management, and dealing with unconsciousness. This comprehensive training ensures that employees are well-prepared to handle a variety of emergency scenarios.
Legal and Ethical Responsibility: Businesses have an ethical responsibility to protect the health and safety of their employees. Providing EFAW training reflects a commitment to this responsibility and showcases the Company's dedication to its workforce.
For enquiries and to make a booking, please contact our Business Officer at [email protected]